/opt/ft/core/content_blocks/bootstrap/CMSMoreElements/image_left_text_right.tpl.php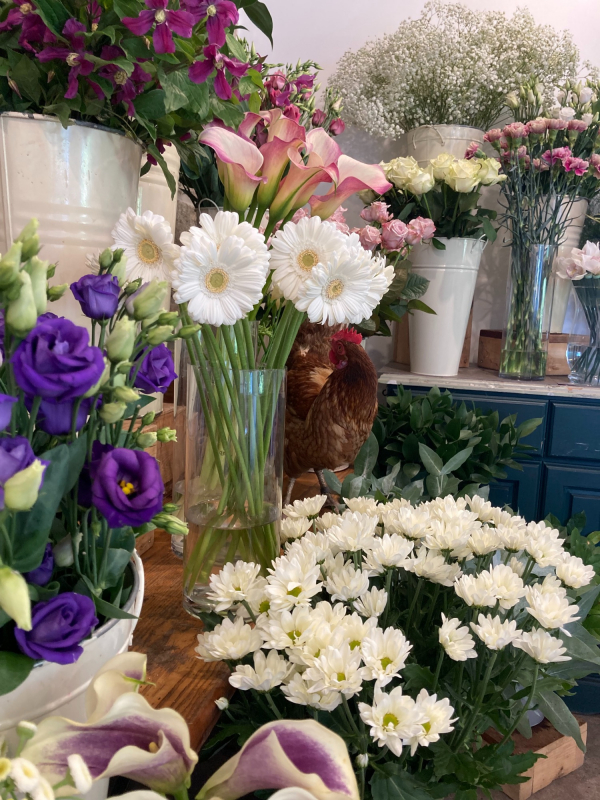 Hello there, I am Sam , your florist. Having qualified as a florist I gained valuable on the job experience in high end flower shops.
I took on my own little shop in a converted cottage in Netherton in 2004. In 2014 I added a little tearoom to my flower shop, baking cakes and designing flowers was enormous fun, I had a blast!
After 15 years it was time for a change and I opened my Flower Studio at my home. My Yorkshire stone 1840's house is half way through renovations, sitting on a Holmfirth hill with a big messy garden and some lovely views, its a wonderful place to work. I am often visited by one of my naughty hens and curious cats, I am truly living my best life!
2022 is going to be so exciting, I am planning a Cutting Garden, a supply of Yorkshire grown flowers just 10 steps from my studio patio! My flower Workshops will begin in earnest, you can come along, have fun with flowers and enjoy Afternoon Tea in the garden on a sunny day. ( Hens and cats may come begging for crumbs!)
My core work is daily delivery of beautiful bouquets for all life's milestones, funeral tributes and I also design for smaller weddings. You can phone 01484 665886 to order, or order online via my webshop. Personal callers are welcome by appointment
masonry_54210-masonry
/opt/ft/core/content_blocks/bootstrap/CMSImageSet/content.tpl.php